SMART CITY VISION OF ISTANBUL WAS EXPLAINED IN THE 13TH ISTANBUL INFORMATICS CONGRESS
The five executives who govern the informatics processes of İBB came together in the "Smart Cities" session of 13th Istanbul Informatics Congress yesterday. Dr. Erol Özgüner, head of IT Department of İBB, moderated the session at the Congress organized by Turkish Informatics Association and Bahçeşehir University. In the session, Yücel Karadeniz (General Manager of BELBİM Inc.), Nihat Narin (General Manager of İSTTELKOM Inc.), Esat Temimhan (General Manager of İSBAK Inc.) and  Prof.Dr. İbrahim Edin (General Manager of UGETAM Inc.) gave a speech.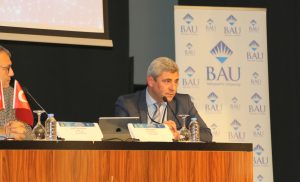 No infrastructure, no "Smart City"
Nihat Narin, İSTTELKOM Inc. General Manager, hold the floor first in the session and mentioned that the Company provides the necessary foundation for "Smart Cities. He said,"We will provide the essential element that can help city life to be automated or to help Industry 4.0 to be realized."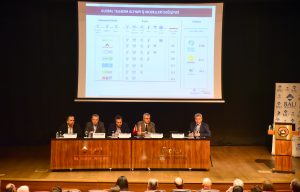 He furthered his argument by saying, "To understand the importance of what we do, we also need to understand the world. The world's Telecom infrastructure is gaining new roles and functions.
Functional and perfect infrastructure is no longer an added value for Telecom operators. Infrastructure companies will do this job now."
Narin added, "We will make available all our experience to ensure a healthy functioning of the Telecom infrastructure at İBB" and conluded his remarks by saying "No infrastructure, no Smart City.
A new era for Istanbul
Esat Temimhan, General Manager of İSBAK Inc., who held the floor second, said that a new era has begun for Istanbul and added, "In this new era, our duty is to create value-added and wise solutions to the existing problems of the habitants of Istanbul."
Temimhan stated that 10 percent of İSBAK AŞ personnel carry out R&D activities and that among them are found the ones with graduate and doctorate employees. Temimhan said, "Creating smart solutions to the needs of the city means Smart City and we are open to all ideas in this sense." and invited everyone to contribute.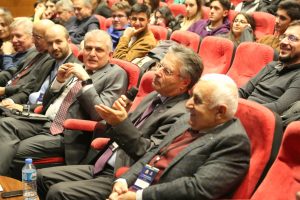 Istanbul Card to develop in 2020
Yücel Karadeniz, General Manager of BELBİM Inc., held the floor following Temimhan and said, "Istanbul Card has been used as a transportation card so far. We are transforming this transportation tool by putting it at the heart of city life." Emphasizing that there are 20 million active Istanbul Cardholders, Karadeniz mentioned that this card is not only used by Istanbul residents.
He also explained that this figure is twice the number of the cards of Turkey's largest bank and that the current market value of Istanbul Kart has reached $3 billion.
According to Karadeniz, in the first half of 2020, Istanbul Card would be valid in big markets, cafes and restaurant chains of the city, and even shopping would be possible with this card. It is mentioned during the session that the Istanbul Card is also expected to be integrated with the Museum Card, thereby making it a full-fledged city card.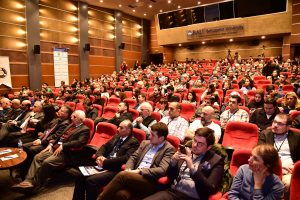 We don't know what we're on
Prof. Dr. Ibrahim Edin, General Manager of UGETAM Inc., claimed that we do not have the basic information about Istanbul. He also stated that we do not have enough information about the city.  Prof. Dr. Edin pointed out the importance of inventory taking and said, "We don't know which pipe passes through the historical peninsula and the last time those pipes valves are checked. As a result, we don't know what we're on today. In the case of an earthquake, we do not know what risks we face in terms of natural gas and water." Prof. Dr. Edin called attention to the fact that UGATEM AŞ also conducts educational activities apart from these activities and announced that they will launch a "Young Leaders Training Program" for approximately 10,000 young talents.
Istanbul's data to become available
At the end of the session, Dr. Özgüner stated that a "Big Data" platform was needed to manage all these initiatives. He pointed out that at this stage, the required integration at İBB has been achieved and that the next task is to interpret this data and accordingly use them in solutions.
Dr. Özgüner emphasized that they consider data as the oil of the new era, and gave the piece of the good news that Istanbul's data will become "Open Data" thanks to a project being conducted in "Zemin Istanbul." December 6, 2019