COMMON COMMUNICATIONS INFRASTRUCTURE IS COMING TO ISTANBUL
Istanbul Electronic Communications and Infrastructure Services Industry and Trade Co. (İSTTELKOM) and operator companies (TURKCELL and VODAFONE) have signed comprehensive cooperation protocols in the area of common telecommunication infrastructure services.
ISTTELKOM AŞ, which was established by Istanbul Metropolitan Municipality to counter the needs of Information Technologies and to solve the problems of Telecommunication Infrastructure, will serve operators in the area of common broadband (fiber optic) infrastructure with the executed protocols.
Broadband for Anyone Anywhere
İSTTELKOM continues its work in high quality, reliable and accessible telecommunication services in line with the conversion goal indicated by our esteemed President Recep Tayyip Erdogan in the transformation of Turkey into an Information Society by 2023.
İSTTELKOM is engaged in significant work to deliver information technologies and electronic communication services to the people and facilitate their lives with the vision envisaged by our IBB Mayor the esteemed Kadir Topbas and continues to provide added value to Istanbul and Turkey with innovative solutions developed for the communications infrastructure of smart cities.
Istanbul and Turkey for an important investment trusts sustainable solutions to prevent the waste of resources and structures produced by the agreement and more households to fiber internet infrastructure to provide faster and more economically submission.
With this agreement which is an important investment partnership for Istanbul and Turkey will generate sustainable solutions and structures to prevent the wasting of resources and deliver faster and more economic fiber internet infrastructure to more households.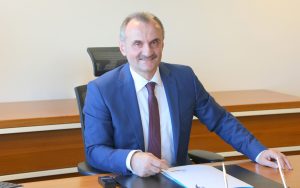 European (SWEDEN-Stockholm) Model
General Director of İSTTELKOM AŞ General Manager Yusuf KOTİL explained that there are different practices in the world in terms of access to fiber and that their service model is implemented in Stockholm, Sweden which is  ideal for Turkey and that they intended to put an end to all fiber infrastructure development that could not be coordinated with this model.
KOTİLindicates that initial facility costs in fiber infrastructures is comprised of  construction works with 68% and the establishment of separate infrastructures by the operators generated serious costs and by preventing recurrent costs  significant cost advantages were created for companies.
Electronic Communication Infrastructure Information System (EHABS)
The EHABS project executed by the Ministry of Transport aims at collecting the electronic communication infrastructure information of the administrators in a single database and using the collected data for following right of way application procedures and in strategy and policy determination.
With the commissioning of EHABS, the operator with infrastructure in place anywhere will be able to access information about the fiber optic cable infrastructure such as the length of the infrastructure (km), the capacity (GB), the route (address or geographical location information), the free capacity (%, GB) regarding R/L devices.
Electronic Communication Infrastructure Facilities Reference Document (BTK)
With the commissioning of the document in question, the aim is to increase service quality by ensuring that operators install their infrastructure according to the standards determined by BTK, excavation work is carried out according to standards and inconvenience to the vicinity is decreased, malfunctions are reduced with high quality infrastructure installation. Furthermore, operators will carry out the infrastructure for their own networks in such a way that it is usable by other operators for a fee and the increase of competition between the operators are other benefits to be generated. Finally, by avoiding unnecessary excavation costs, the aim is to provide end users with electronic communication services at more reasonable rates, thereby contributing to the economy of our country by ensuring efficacy and efficiency in the use of resources.
KOTİL indicated that as ISTTELKOM they provide safe and sustainable competitive network backbone connection services to institutions and organizations for all kinds of electronic communication and fast internet communication by investing in fiber optic infrastructure  to counter future telecommunication needs and ensuring that the resources of the country are used efficiently and productively with original solutions in telecommunication infrastructure services.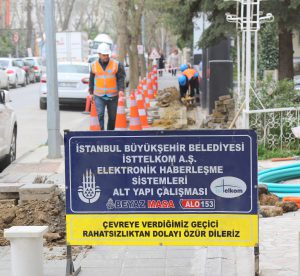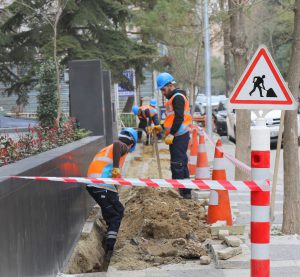 Our Aim is to Increase the quality of Peoples' lives
KOTİL  referred to the importance of public and private sector cooperation and facility sharing as well as the use of common infrastructure for the internet targets of 2023 Information Society vision to enhance the competitiveness of Turkey with the world and said that their objective was to help citizens benefit from the most advanced communication technologies and improve Istanbul's quality of life.
Resource Wastage to be Prevented
KOTİL indicated that the cost of delivering individual fibers to all 22 million households in Turkey required an approximate investment of  $ 16 billion whereas an investment in common infrastructure would require only $ 4 billion which would incur in significant savings instead of serious costs.
Pointing out that an interruption in critical infrastructures could lead to large-scale economic loss, national security gaps and deterioration of public order across the country, KOTİL said that they wanted to bring our country to a good position on the international scale in the information and communication sector.
The Target is Affordable and High Quality Internet Services
KOTİL said that as İSTTELKOM, instead of investing in separate fibers along the same route, redundant investments could be prevented with the efficient application of the Right of Way Regulation and using a common infrastructure to activate idle capacities and deliver high speed and economic internet services everywhere.
KOTİL stated that they intended to be a competitive company sensitive to social values and the environment that contributes to the transformation of its targets into an information society and hoped that the agreement would be beneficial.
Contribution to National Revenue
The world mobile ecosystem contributed $ 3.1 trillion in 2015, corresponding to 4.2 percent of the global economy GDP, while the industry also directly and indirectly supported 32 million jobs and contributed $ 430 billion to public resources through various types of taxes.
According to research, it is expected that 1 unit growth in the ICT sector will create a 1.8 unit growth effect in the economy as a whole. While the ratio of fixed broadband penetration ratio per population in Turkey is 12.7 percent, this ratio is reported as 29 percent in the OECD; raising the penetration rate to the OECD level and beyond will contribute considerably to national income through growth in the economy with fast internet.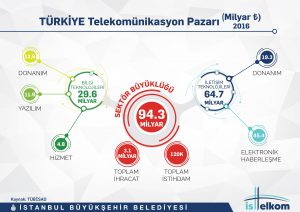 Information and Communication Sector Market Size
With a 14.4 percent growth in 2016, the total sector size of information and communication technologies achieved a volume of 94,3 billion TL in Turkey. The total export figure of the sector increased by 32 percent compared to the previous year and reached 3.1 billion TL and the employment number was 120 thousand persons
Double-digit growth in Turkish lira is expected in the sector in 2017 and it is indicated that R&D investment and innovation will be the most important factor in growth.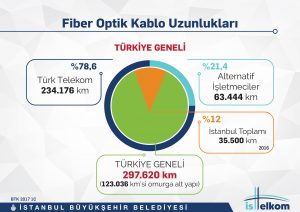 Fiber Infrastructure Current Status
The extension of fiber infrastructure is very important for Turkey as the plans are to move to the 5G infrastructure in 2020.
The number of broadband internet subscribers in Turkey exceeded 64.3 million by the end of the first quarter of 2017.
According to the latest Information and Communication Technologies Authority (BTK) report, the length of fiber link in Turkey is 297 620 km with 35,500 km in Istanbul. 123,036 km of the total length of fiber is backbone while the rest is used for access purposes.
While Türk Telekom has a total of 234 thousand 176 km of fiber infrastructure, the fiber infrastructure length that other operators own is 63 thousand 444 kilometers.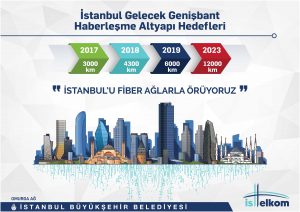 2023 Fiber Optic Infrastructure Target is 12000 km (Istanbul)
KOTİL said that in line with the 2023 targets, the intention was to deliver 100 Mbit/s broadband service to every home in Turkey in 2023. KOTİL stated that the fiber optic infrastructure targets of ISTTELKOM AŞ for Istanbul was 6000 km in 2019 and 12,000 km in 2023.