IBB WIFI WAS AWARDED BEST SOCIAL PROJECT
IBB WiFi delivered by İsttelkom A.Ş. was awarded first prize in the 'best social digital project' category of the Best of Digital in which the best of the digital world are chosen.
The winners of the Best of Digital competition, where the best of the digital world are selected, received their awards at a ceremony held at the Maslak Campus of Şişli Vocational School of Higher Education. In the competition organized by Şişli Vocational School of Higher Education, one of the subsidiaries of İstanbul Metropolitan Municipality İsttelkom A.Ş. was awarded first prize in the "Best social digital project" category for WiFi service provided by IBB.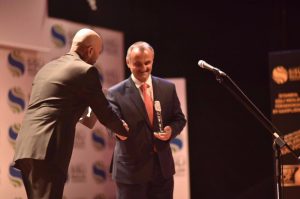 The IBB WIFI project which was commissioned with the understanding of social municipalism and smart city delivers free internet to Istanbulites from 1718 locations and 2802 access points in public spaces and public transportation vehicles. 45 streets and plazas such as Taksim, Eminönü, Kadıköy, Mecidiyeköy, Şişli, Üsküdar, as well as parks, groves, piers, bus stops and cultural centers as well as IBB service buildings are among areas offering free internet service.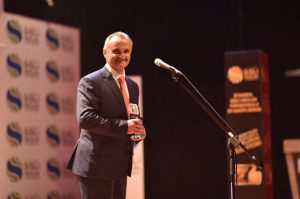 General Director Yusuf Kotil who accepted the award on behalf of İSTTELKOM A.Ş. said, "the work that has been done with innovative ideas and a qualified team will be extended to the whole of Istanbul, especially in public areas for the benefit of the public and citizens".
Yusuf Kotil spoke as follows:
"OUR TARGET FOR 2019 IS 6000 LOCATIONS THROUGHOUT ISTANBUL"
"Access to information which is the locomotive of the 21st century is enabled by fast and high quality internet. The only way to achieve this is by having an effective telecommunication infrastructure. We contribute by providing public benefit services in the area of information technology and communication to society to raise the quality of life. Istanbul Metropolitan Municipality's smart urbanism approach is the solution partner of İBB WiFi system, serving 20.000 individual users on an average daily basis, while the monthly access number exceeds 600.000 on average. Every day at least 2500 local and over 150 foreign new users are registered. We reciprocate this profound interest by constantly updating and increasing these connection points. Our goal is to introduce all Istanbul to free, fast and secure internet with 6000 locations in 2019."
The evening started with a presentation by presenter Ceyhun Yılmaz titled 'How not to use the Social Media'and a special award presented to Ümit Sanlav, the author of the book "Social Media Wars" which is the first book about this media explaining that this tool must be taken seriously in the days when the social media was considered merely as a form of entertainment.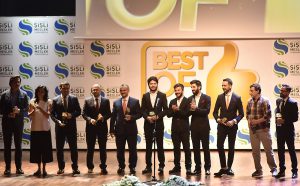 The following awards were distributed at the award ceremony of the best of the digital world which are determined with the votes of citizens through the bestofdijital.com website:
Best Facebook Phenomenon Baho, Best Twitter Phenomenon Pucca, Best Instagram Phenomenon Atakan Özyurt, Best Digital News Platform Onedio, Best Digital Radio Platform Power App, Best Digital Bank Platform Ziraat Mobil, Best Mobil Game Kafa Topu, Best Digital Tv Platform Blu TV, Best Youtube Channel Kafalar, Best Digital Shopping Platform Hepsi Burada, Best Music Platform Fizy, Best Mobil Application Getir, Best Digital Brand Campaign Filli Boya, Best Internet Serial Fi.