VISIT TO ISTTELKOM VISITED BY EKREM IMAMOGLU, THE MAYOR OF THE GREATER ISTANBUL
Ekrem Imamoglu, the Mayor of Istanbul Metropolitan Municipality and his management team were informed by Nihat Narin the General Manager of ISTTELKOM A.S. about the company's new vision, goals and activities.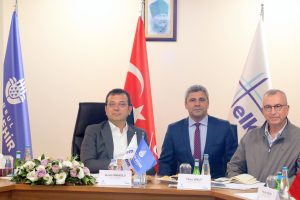 Ekrem Imamoglu, Mayor of Istanbul Metropolitan Municipality, visited ISTTELKOM INC., a subsidiary of IBB (THE GREATER ISTANBUL), which carries out activities towards improving the quality of life of the community in the field of information technologies, communication and shared media infrastructure services. During the visit, President Imamoglu was accompanied by Yavuz Erkut, IBB Secretary General, Assistants to the Secretary General and Advisors to the President.
Receiving information from Nihat Narin, the General Manager of ISTTELKOM INC., about the company's service area, activities and objectives, Mayor Imamoglu greeted the management staff and employees after the meeting and wished success in their work. 21.09.2019