The Heart Of Infrastructure Trobbed In Istanbul!
Participants from the water, natural gas and communication sector gathered at the "Infrastructure Quality and Innovation Symposium ALTİST 2017" which was held in Crowne Plaza Istanbul Asia between 15 – 17 November 2017 for 3 days during which 30 topics were discussed in 7 different sessions.
ALTİST, which brought together over 400 important stakeholders of the sector started with the opening speech of Dr.Şenol YILDIZ, the General Director of UGETAM. Important stakeholders of infrastructure İLBANK Deputy General Director Muhammed Ferit YÜKSEL, MYK Vice President Metin KARAMAN, GAZ-BİR President Yaşar ARSLAN, İSKİ General Director Dr. Fatih TURAN and DSİ General Director Murat ACU made speeches.
In his speech, UGETAM General Director Şenol YILDIZ noted that Turkey is the world's 18th largest economy yet ranked in 28th place among 137 countries in the quality of infrastructure systems and emphasized that we had a long way to go in terms of domestic and national product applications. UGETAM General Director Dr. Şenol YILDIZ stated that the "Local Administrations Academy" project had been commissioned with the objective of increasing personnel competency in local administrations through certification and training to achieve the level that our country deserves and that the certification, testing and inspection works carried out since the establishment of UGETAM had incurred an increase in infrastructure applications and product quality exceeding 50%.
Following the opening speeches, UGETAM General Director Dr. Şenol YILDIZ presented plaques to the corporate managers and sponsor companies participating in the symposium.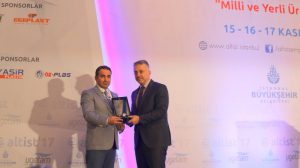 The plaque of appreciation awarded to İSTTELKOM for its contribution to ALTİST 2017 was received by Electronic Systems Manager Ahmet Selami SÖĞÜT on behalf of the company from DSI General Director Murat ACU.
After the opening speeches and presentation of plaques, the participants visited the stands of the companies contributing to the symposium and received information about the products and developments.
Sessions under 7 different titles, mainly "Experiences in Plastics Infrastructure Applications, Next Generation Products and Technologies", "Life and Renewal in Water and Gas Infrastructure Systems", "The Importance of Professional Qualification and Personnel Certification for Infrastructure Systems", "Integrated and Intelligent Management of Infrastructure Systems",  "Inspection and Innovative Applications in Infrastructure Systems",  "Domestic and National Product Usage in Infrastructure Products" and "Quality, Testing and Documentation in Infrastructure Systems" were carried out for two days during the symposium.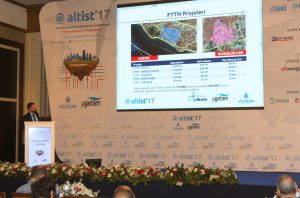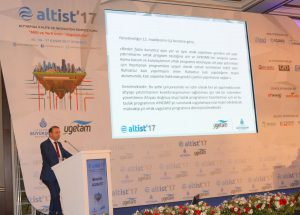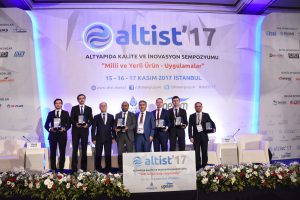 Ibrahim BOZKURT, Director of İBB Infrastructure Coordination, delivered a presentation titled 'Integrated Study in Infrastructure Institutions' at the symposium in which İSTTELKOM Infrastructure Manufacturing Supervisor Emrah Arkın DOĞAN shared 'Fiber Optic Communication Infrastructure Systems and Services' with the participants.
The two-day intensive symposium program ended with a technical tour organized to UGETAM Kurtköy Campus.