IBB WIFI AT THE SERVICE OF HEALTHCARE EMPLOYEES AND PATIENTS' RELATIVES
IBB WiFi free internet service continues to serve healthcare professionals and patients' relatives in public hospitals in Istanbul where cafes are operated by BELTUR.
Supporting the internet needs of healthcare professionals and patients' relatives who are struggling with the global epidemic, IBB WiFi provides service in BELTUR cafes in hospitals.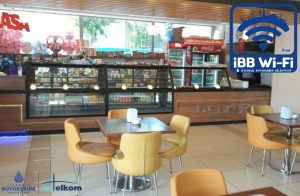 FREE, FAST AND SECURE INTERNET
IBB WiFi service is provided in squares, parks, cultural centers, sports facilities and touristic social areas. Furthermore, quality and secure communication is offered to citizens in 20 BELTUR cafes operating in public hospitals.
IBB WiFi, which currently serves 3,8 million subscribers at 3,735 locations, will be further expanded with new points that are being planned.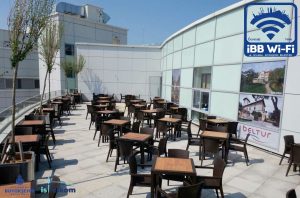 30GB FREE INTERNET PER MONTH
Users are delivered free of charge internet service with a daily speed of 2 megabits and a quota of 1 Gigabyte per month at IBB WiFi hotspots.
It is sufficient for users to connect to the IBB WiFi wireless network from internet points via smart phone, tablet or laptop to benefit from the free internet service.
Hospitals with IBB WIFI service;
| | |
| --- | --- |
| DISTRICT | LOCATION |
| ATAŞEHİR | Fatih Sultan Mehmet Hastanesi |
| BAŞAKŞEHİR | Başakşehir Devlet hastanesi |
| BAYRAMPAŞA | Bayrampaşa Devlet Hastanesi |
| ÇATALCA | Çatalca Devlet Hastanesi |
| FATİH | Bezmialem Hastanesi |
| GAZİOSMANPAŞA | Gaziosmanpaşa Eğitim ve Araştırma Hastanesi |
| KADIKÖY | Erenköy Ruh ve Sinir Hastalıkları Hastanesi |
| KARTAL | Yakacık Çocuk ve Doğum Hastanesi |
| KARTAL | Yavuz Selim Devlet Hastanesi |
| KÜÇÜKÇEKMECE | Kanuni Sultan Süleyman Devlet Hastanesi |
| KÜÇÜKÇEKMECE | Mehmet Akif Ersoy Hastanesi |
| MALTEPE | Süreyyapaşa Göğüs Hastalıkları Hastanesi |
| SANCAKTEPE | Şehit Prof. Dr. İlhan Varank Hastanesi |
| SANCAKTEPE | Sancaktepe Diş Hastanesi |
| SARIYER | Baltalimanı Kemik Hastalıkları Hastanesi |
| ŞİŞLİ | Şişli Hamidiye Etfal Devlet Hastanesi |
| ÜMRANİYE | Ümraniye Devlet Hastanesi |
| ÜSKÜDAR | Üsküdar Devlet Hastanesi |
| ÜSKÜDAR | Validebağ Hastanesi |
| ÜSKÜDAR | Zeynep Kamil Kadın ve Çocuk Hastalıkları Hastanesi |