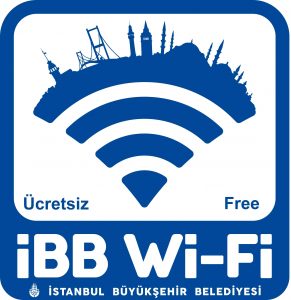 IBB WiFi services
Connect to the world anytime and anywhere with the "free internet" service.
What is ibbWiFi?
Istanbul metropolitan municipality provides secure and accessible telecommunication services to our local citizens and foreign guests; since April 2014, it is a free internet service called "ibbwifi" in many public areas such as squares, streets, parks, gardens, sports and cultural facilities.
ibbWiFi service is a step in the implementation of the worldwide Muniwifi (regional wireless networks) concept by the Istanbul Metropolitan municipality.
The ibbWiFi service offered to citizens throughout Istanbul provides free access to Internet services from many different points.
The free internet project was launched by IBB at 27 locations on 1 April 2014 at the same time.
As İSTTELKOM, our goal is to integrate ibbWiFi Internet services with innovative cutting-edge technologies and quality and to spread them all over Istanbul, especially in public areas.
Objectives of ibbWiFi;
IBB wifi service is the most intense challenge of citizens, arteries, parks, facilities, etc. expansion in areas, increasing the satisfaction of the citizen by opening a new service area,
Establishing public wireless communication network within the borders of the city,
In disasters and ordinary days, IBB WiFi network is located in areas outside the network that employees of institutions outside the citizens can access the public network to carry out their work,
All public transportation vehicles are included within the scope of coverage(bus, metrobus, taxi, minibus) of the citizens to benefit.
By taking a leading role in Turkey in the vision of transforming our country into an information society, it is planned to provide high quality, secure and accessible telecommunication services to meet contemporary needs in the fields of information and communication that Istanbul is worthy of at local level.
How to use ibbWiFi Service
In order to benefit from ibbWiFi free internet service, each user must connect to the ibbWiFi wireless network from a smart phone, tablet computer or laptop and free internet points.
How shall I register for the ibbWiFi Service?
After connecting to the ibbwifi network from the area where the ibbWiFi network is located or from IETTbus and metro bus vehicles, user registration button is clicked and the necessary information is filled. After filling in the necessary information belonging to the user (such as mobile number, e-mail address and First name surname), the user is sent the ibbWiFi password as SMS. The user is able to connect to the ibbWiFi service with this password.
What is ibbWiFi daily usage information?
Free internet service with1 GB quota and 2 Mbps speed limit is provided to all our citizens daily.
ibbWiFi Location Information
For your nearest IBBWiFi service, please visit http://sehirharitasi.ibb.gov.tr/ and İBB İSTANBUL mobile applications