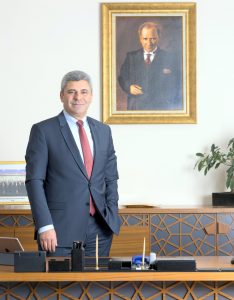 The Information and Communication Technologies sector is the most important sector that increases the economy, education and social quality of current societies. In this context, it is of great importance that the communication infrastructure is strong, sustainable and accessible by everyone.
ISTTELKOM is responsible for the telecom infrastructure of the Istanbul Metropolitan Municipality in the fields of digitalization and smart city applications.
Our strategic priority is to create more added value for our customers and to expand the scope of the services we offer. Our priorities will be to increase free WiFi points in public areas and to grow in the radio and data center areas with urgently needed fiber infrastructure investments.
There are many topics such as artificial intelligence, big data, blockchain, digital workforce, cloud computing, Industry 4.0, smart pole, internet of things (IoT) and 5G on our agenda. These issues naturally require the sector to invest much more and develop new business models.
In line with these developments, the emerging "sharing economy" in the telecom infrastructure sector and new business models established "without acquiring ownership" (Asset Light Model) will require industry players to follow this business trend, thus preventing duplicate investments and efficiency will be inevitable.
In order to bring Istanbul to the level it deserves in the field of communication, we will increase our cooperation with operators and alternative operators with our strong services. In addition, we aim to increase efficiency by providing consolidation in fiber infrastructure, data center and wireless tower services.
As ISTTELKOM, we will continue to carry out our activities that generate value for our stakeholders, with great determination and enthusiasm, with the awareness of our goals and the responsibility we carry.
Sincerely,
Nihat NARIN
İSTTELKOM Inc. General Manager