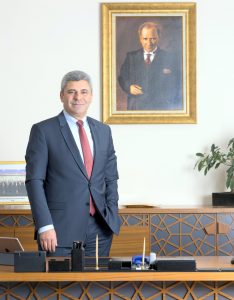 Information and communication technologies are the most important sectors that increase the economy, education and social quality of current societies. They have played an indisputable key role in economic development and progress in the world for the past 10 years.
According to OECD data, a 1% increase in the ICT sector generates a multiplier effect resulting in a 1.8% growth in the whole economy (GDP). Therefore, it is of great importance that the communication infrastructure is strong, accessible and sustainable for everyone.
ISTTELKOM Inc. is responsible for the Istanbul Metropolitan telecommunications infrastructure in the areas of digitalization and smart city applications. Isttelkom continues to work with the vision of generating permanent and strong values for its stakeholders by increasing standards in the transformation journey of our country to an information society and aims to provide solution-oriented services for all its stakeholders.
Our strategic priority is to produce more added value for our customers and to expand the range of services we offer. Our priority is to increase free WiFi spots in public areas with urgently needed fiber investments, and grow in wireless and data center areas. We also want to produce new solutions by focusing on the needs of alternative sectoral operators.
We have many topics on our agenda such as new technologies like artificial intelligence, big data, cloud computing, business analytics, internet of things (IoT), loraWan and 5G. These issues naturally require the sector to invest much more.
To date the sector has focused mainly on the consumer internet and has achieved many inventions that increase the standard of daily living. Inventions that respond to consumer needs such as digital books, music, movies, games, and online commerce have made life even easier. However, ongoing new developments demanding increasing investments are inevitable. The internet needs of consumers will continue to contribute to the production economy in the new period. In this context, the transition to the "Industry 4.0" and "Industrial Internet" revolution will now be inevitable and all these developments will naturally require more speed, capacity and coverage.
The sector will not be able to manage such serious investments with long term returns in the short term and will have to develop new business models.
In line with these developments, the new business models "sharing economy" and "Asset Light Model", which have been emerging in the telecom infrastructure sector, will require sector players to follow thisbusiness model trend, preventing duplicate investments and efficiency will be inevitable.
In addition to playing an important role in realizing digital transformation, 5G necessitates a completely new communication infrastructure as it is the most important component of future gigabit networks.
We will increase cooperation with the operator and alternative operators with our strong services in order to carry Istanbul to the level it deserves in the area of communication. In addition, we aim to increase efficiency by ensuring consolidation in infrastructure, data center and wireless tower services.
As İsttelkom, with the awareness of our goals and responsibility, we will continue to carry out our activities that create value for our stakeholders with commitment and enthusiasm.
Sincerely,
Nihat NARIN
ISTTELKOM Inc. General Manager